Manufacturers from the beverage, liquid food, chemicals, pharmaceuticals and cosmetics industry have one thing in common: They all have high-performance machines running on the production floor that require service by a highly skilled team.
And exactly that highly skilled team is offered by Krones Service Europe: Our service engineers are the experts who know exactly how to take care of your machines and lines. As in-depth expertise and unparalleled quality are a top priority, and we instil the same commitment to excellence in our installation and service team.
Another advantage: Krones Service Europe is a hundred per cent member of the Krones Group. For precisely that reason, our experts are thoroughly familiar with the technical subtleties and distinctive features of Krones machines and lines. You, as a customer, can be sure that your line is in good hands with us.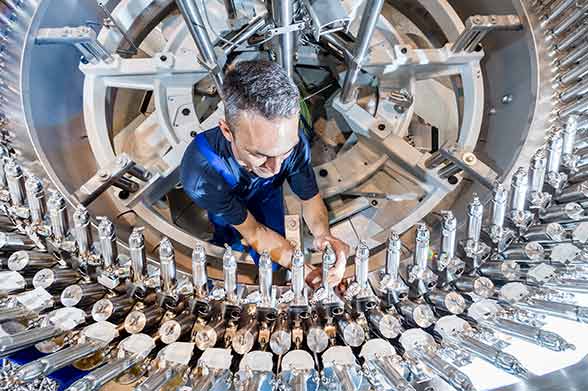 Krones Lifecycle Service
Whether cost efficiency, reliability in day-to-day operation or a production process designed to ensure sustainability: We recognise the requirements and wishes of our customers and translate these into solutions that are exactly tailored to the respective line. Regardless if this concerns the perfect performance of your line, the ideal organisation of your warehouse or extensive consultation for the after-sales area: The experts of the Lifecycle Service are always there to help your reach your goals and turn your wishes into optimal LCS solutions.
Technology enthusiast and world traveller
If you can identify with this personality profile, then Krones Service Europe is the place for you. Would you like to become a member of our team? Then we are looking forward to your job application to one of our vacancies, or to your speculative application.
Now is the time to get acquainted with us!